ANA X will launch ANA LIVE SHOPPING, a service enabling consumers to purchase in real time with live viewing! 
~ Will create a new point of contact with customers in their everyday lives, and provide  a "meeting place" for good products and good people 〜
ANA X Inc. (President and CEO: Kazuhiro Todoroki, Headquarters: Chuo-ku, Tokyo; hereinafter referred to as "ANA X") will begin the ANA LIVE SHOPPING service from 16:00 on May 24 (Tuesday). ANA SHOPPING LIVE will enable consumers to enjoy shopping for famous products from throughout Japan, travel products and ANA original products, in real time and with live viewing.
 Due to modifications in people's behavior caused by COVID-19, the spread of online shopping has accelerated. Recently, in addition to conventional e-commerce, the importance of "delivering online shopping experiences through live streaming" that features dedicated interactive communication has been growing.
 Amid this environment, ANA X, ANA Group's platform business, will promote regional revitalization and the reopening of inbound tourism operations by providing "a platform in a live commerce format(Note 1)" that makes interactive communication possible, and which connects viewers – centering on ANA Mileage Club members – with regional producers, tourism operators and distributors at ANA Group and elsewhere, in their everyday lives.
 In addition, the various data that it will be possible to acquire during the streaming of ANA LIVE SHOPPING, such as the number of views, number of reactions and content of comments, will be  gathered and analyzed in order to optimize the streaming content and the products that are introduced.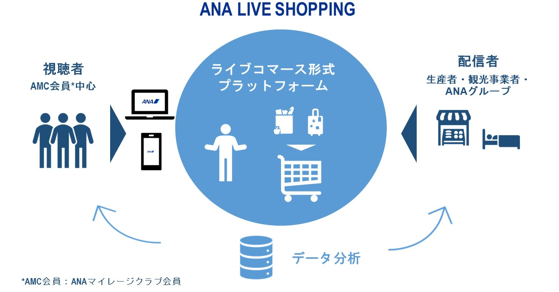 As a first step, ANA X will partner with Kagawa Prefecture to sell "Kagawa Prefecture products from a fair currently being held at the TOCHI-DOCHI store(Note 2) near Seijogakuen-mae Station" and "Kagawa Prefecture accommodation facilities, as rigorously selected by ANA Traveler's" in a live stream. The first first half of the ANA LIVE SHOPPING stream will showcase Kanagawa Prefecture's famous products, while the second half will showcase the production areas and accommodation facilities with a connection to them, in partnership with the producers and the operators. Furthermore, ANA X will also prepare special assorted sets, accommodation plans at special prices and other offerings that will only be available on ANA LIVE SHOPPING.
We certainly hope you take this opportunity to fully enjoy Kagawa Prefecture, of the Seto Inland Sea.
[URL for the details] https://www.ana.co.jp/ja/jp/travel/liveshopping/

■ Overview of the first project
Product name: Kanagawa's appeal – it's more than just udon noodles!    
Opening date and time: Sunday, May 29 2022 from 18:00 to 19:00
Application period: Prior application is not needed. It will be possible to view directly, via the viewing link.
Purchasing period:
・Famous Kanagawa products: 18:00 on Sunday, May 29 to 10:00 on Monday, May 30
・Kagawa Prefecture accommodation facilities, as rigorously selected by ANA Traveler's: From 18:00 on Sunday, May 29  to 23:59 on Tuesday May 31
Capacity: 30,000 people
Products for sale (examples):
・Famous Kanagawa products: "Taste and Compare" udon set: 3,200 yen (including tax)
・Kagawa Prefecture accommodation facilities, as rigorously selected by ANA Traveler's:
 JR Hotel Clement Takamatsu,Yumoto Konpira Onsen Hananoyu Koubaitei,Olivean Shodoshima Yuhigaoka Hotel
Participation criteria: On the days in question, the streaming will take place using a live commerce system(Note 3)
While it is not necessary to download an app in advance, please be sure to participate from a location with a stable communication environment.
Project partners: Kinryo Shoyu Co.,Ltd.,  Sanuki Mengyo Co., Ltd., Takara Syokuhin Co., JR Hotel Clement Takamatsu, Yumoto Konpira Onsen Hananoyu Koubaitei, Olivean Shodoshima Yuhigaoka Hotel
Please direct inquiries regarding collaborating with and implementing ANA LIVE SHOPPING to ANA LIVE SHOPPING secretariat: ml_notice_analiveshopping@ana-x.co.jp
Points to note:
・Viewing the live stream on a smartphone is recommended. On the days in question, if it is difficult to connect please wait a short time and try accessing again.
・Please be aware in advance that in some cases the products on sale during the live stream and their composition may change without prior notice.
・While it is possible to submit questions and comments using the chat feature, please understand in advance that we may only be able to answer some of the questions due to time restraints.
At ANA X, we will continue to provide new services that are aligned to the times from here on also, and we certainly hope you will look forward to the appealing lineups we will assemble for ANA LIVE SHOPPING too.
Note 1: Live commerce is a sales format that combines live streaming with ecommerce (EC). Viewers are able to buy products while using a comment function or similar feature to ask questions about the products introduced by distributors, and communicate with them in real time.
Note 2: Please check here for the press release regarding TOCHI-DOCHI.
Note 3: A system in which live viewing and product purchasing are possible simultaneously.

"); document.write(""); // -->