We have established a unique marketing platform through a diverse range of collaborations.
Through this, we create value for both individual customers and our business partners.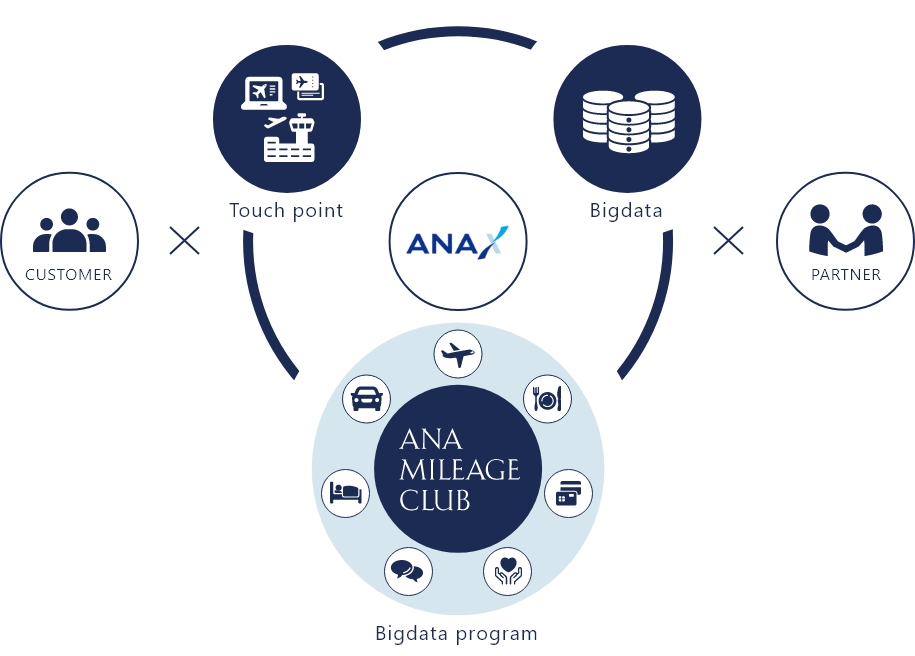 MILEAGE PROGRAM

Developing ANA's mileage program through a customer-oriented approach

We leverage all of the ANA Group's assets to develop and run a program that is designed to give our customers better value.
This is more than just an airline loyalty program—we aim to develop a program that empowers our customers to enrich their lives through everyday activities.

TOUCHPOINTS

Leveraging ANA's in-person and online digital touchpoints

We leverage all the ANA Group's customer touchpoints—such as at the airport and through ANA's reservation centers—to realize mutually beneficial relationships for both customers and business partners.
We provide optimal communication tailored to the needs of the individual customer through ANA's website and mobile apps, which are both among the most accessed in Japan.

BIG DATA

Unique database marketing that leverages big data

We utilize big data gathered through various customer touchpoints to enhance the value provided by the mileage program and achieve a deeper relationship with customers.
Through benefits brought about by advances in analytics, we implement unique database marketing for the ANA Group.
* ANA X Inc. is commissioned by and undertakes customer-related services on behalf of All Nippon Airways Co., Ltd.

"); document.write(""); // -->