Business alliance between ANA X and Agoda! Launches a new global accommodations reservations site! ANA World Hotel
 ANA X Inc. (President and CEO: Kazuhiro Todoroki, Headquarters: Chuo-ku, Tokyo) has arranged a business alliance with  Agoda Company Pte. Ltd. (CEO: John Wroughton Brown, Headquarters: Singapore; hereinafter Agoda) and is launching a new reservation site for accommodations "ANA World Hotel" that handles over 1.5 million locations worldwide. The launch expands ANA X's accommodations reservation service.
 Through this alliance, ANA X is revamping the overseas accommodations reservation site on the ANA web site (www.ana.co.jp) and beginning accommodations reservation service via Agoda's unique interface.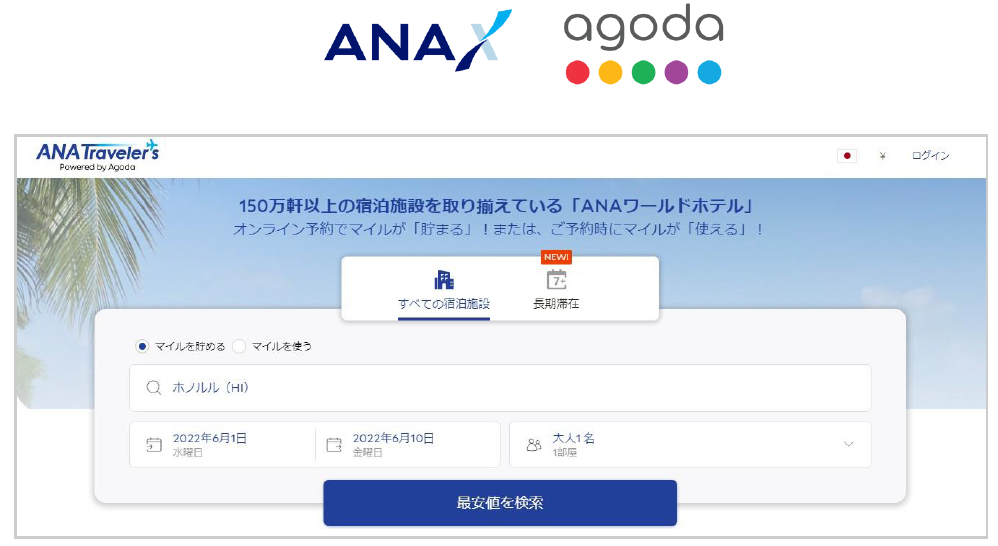 URL: https://www.anaworldhotel.com/en-jp/?cid=1903626

ANA World Hotel – Five main points

Point 1. Handles over 1.5 million accommodation sites globally!
    Make selections suited to the purpose and budget of the trip.

Point 2. "Accumulate" miles from online reservations!
     ANA Mileage Club members receive "1 mile per 100 yen" for credit card payments.

Point 3. "Use" miles when making reservations at hotels worldwide!
     Miles can be used at a rate of "1 yen = 1 mile."
     Payments may combine credit cards and miles.
 
Point 4. Offers a wider range of payment methods including some hotels that accept local payment!       Settle the payment at check-in or check-out timing.

Point 5. Expands language support to 12 languages!
    Supports Japanese, English, Chinese (Simplified/Traditional), French, German, Russian,Swedish, Turkish, Thai,Vietnamese, Indonesian, and Korean.

 Besides accommodations reservation service, the site plans to add car rental reservation service in the fall. ANA X aims to support unrestricted travel proposals suited to the individual styles of our customers and steadily enhance customer convenience through reinforcement of the alliance between the two companies.

"); document.write(""); // -->