Two new ANA Traveler's Online Tours: -A live session with wheelchair tennis champion Shingo Kunieda -An introduction to Sydney and Perth, Australia
ANA X Inc. (President and CEO: Shinichi Inoue, headquarters: Chuo-ku, Tokyo) is launching February online tours on Tuesday, January 25 from 2:00pm. Two brand new tours are available.
■Live session with pro wheelchair tennis star Shingo Kunieda
An online tour to discover untold stories from international tournaments and the secrets behind Kunieda's power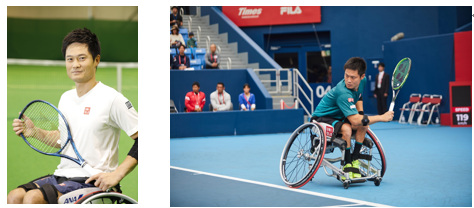 This tour is a special production involving pro wheelchair tennis champion Shingo Kunieda, with whom ANA has a sponsorship agreement. He will share some untold stories from tournaments he has played in around the world. The tour also includes a "play corner" where you can get up close with how Kunieda plays via hyper-realistic images.
 There is a wealth of content on tap here. Kunieda being the most successful world male singles champion in wheelchair tennis in history, he will be talking about how he stays motivated through challenging times, how he sets goals and more.
 There will also be a session for you to ask Kunieda questions using the Zoom Q&A function. Please join us for this tour if you are a tennis fan, if you harbor ambitions as an athlete or if you simply love sport.
 For this tour, we have three plans: a Viewing only plan, a Viewing + souvenir plan, which includes a complementary tennis ball autographed by Kunieda, and a Viewing + souvenir + conversation plan, which also allows you to interact one-on-one with the champion.

Further details – https://www.ana.co.jp/ja/jp/travel/onlinetour/#onlinetour220125_1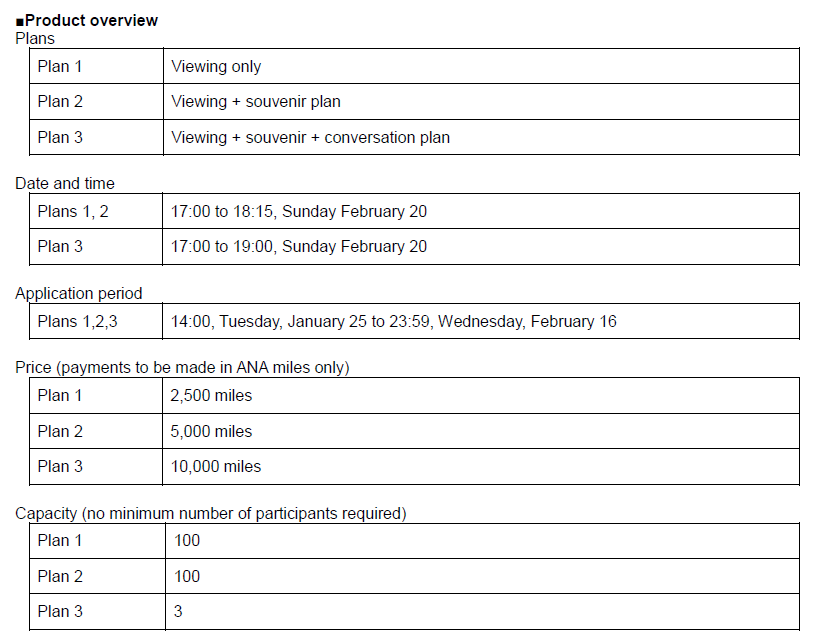 Participation conditions:  Please join the tour from a location where internet access is strong and stable.
Zoom will be used for the tour, so if you do not yet have the Zoom app, please download it in advance.
Notes:
・These tours must be paid for using ANA miles. Credit cards cannot be used for the purchase. Thank you for your understanding.
・Your questions will be answered using the Zoom Q&A function. Please understand in advance that due to the composition of the tour, we may only be able to answer some of the questions.
・For plans including a souvenir, this will be dispatched to you within 10 days of the completion of the tour.
・The Viewing + souvenir + conversation plan is limited to three customers on a first-come, first-served basis.
 Each customer will have approximately 5 minutes to chat with Mr. Kunieda.

■Australia (Sydney session, Perth session)

This tour involves a stroll around the best places to go in Sydney and Perth. Each city warrants its own session. Accompanying you on this tour will be an ANA Traveler's tour guide. With a combination of live broadcasts from overseas branch ANA staff and local staff and video, you will see the cities live as well as footage of life in Australia. There will also be a selfie session with cute animals and a Q&A corner with staff in Australia.
 This tour offers two plans: Viewing only, and a Viewing + Lunch plan, which serves you an Aussie meat pie and ANA original beef consommé soup.
Part of the proceeds of this tour will be donated to the Australian Koala Foundation.
Further details – https://www.ana.co.jp/ja/jp/travel/onlinetour/#onlinetour220125_2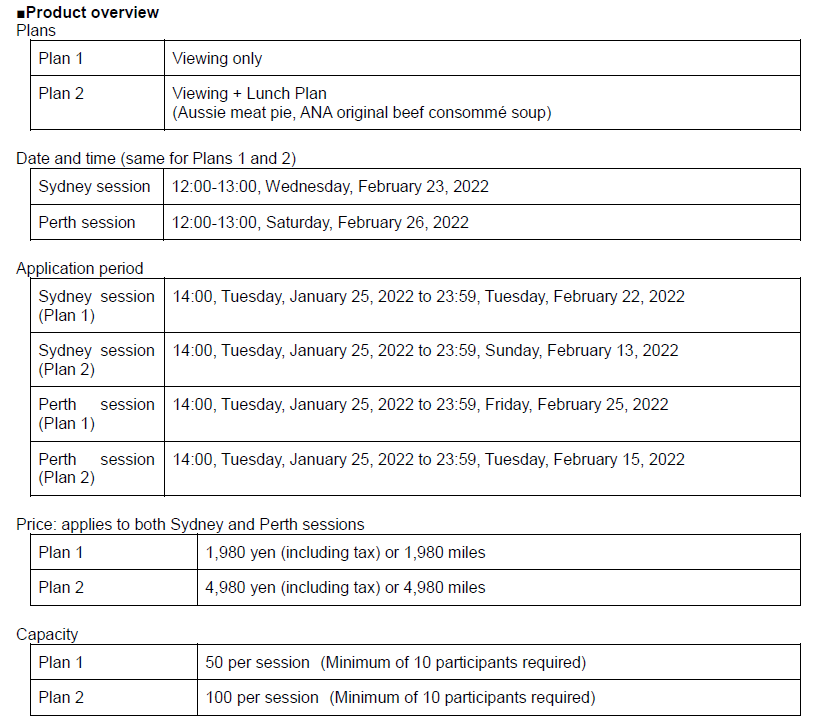 Participation conditions:  Please join the tour from a location where internet access is strong and stable. Zoom will be used for the tour, so if you do not yet have the Zoom app, please download it in advance.
Notes:
・Your questions will be answered using the Zoom Q&A function. Please understand in advance that due to the composition of the tour, we may only be able to answer some of the questions.
・The "extra helping" option is available only for those customers ordering the Viewing + lunch plan. Please contact us after making your application.

"); document.write(""); // -->