Campaign to promote use of Tokyo (Haneda and Narita) transportation routes
~Facilitating smooth travel in the Tokyo metropolitan area using the Airport Access route finder service~
---
ALL NIPPON AIRWAYS CO., LTD. (headquarters: Minato-ku, Tokyo, President & CEO: Yuji Hirako , hereinafter "ANA") and ANA X Inc. (headquarters: Chuo-ku, Tokyo, President and CEO: Shinichi Inoue), in cooperation with Prince Hotels in the Tokyo metropolitan area (Hisamasa Takei, General Manager, Tokyo City Area and Metropolitan Area), will implement a campaign to promote the use of Tokyo transportation routes.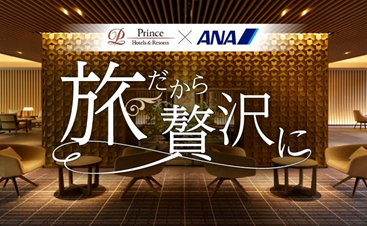 Prince Hotels, Inc. operates a large number of hotels throughout Japan including the Tokyo metropolitan area, and offers a comfortable atmosphere to its customers. In order to provide customers an even more fulfilling trip to the Tokyo metropolitan area, a variety of coupons will be offered that can be used at Prince Hotels in the Tokyo metropolitan area, which are easily accessible from major stations and have convenient transportation.
Toward the recovery of travel demand in the future, this airline and an accommodation provider will work together to create an environment where customers can enjoy travel in comfort.
[Campaign overview]
1. Restaurant coupons
For passengers boarding flights to Tokyo from all over Japan, coupons will be provided that can be used at restaurants and bars directly managed by Prince Hotels in the Tokyo metropolitan area. The coupons will be distributed through the Airport Access* route finder service so that passengers can smoothly check their route to their hotel. This is the first time for an accommodations provider to distribute coupons via Airport Access.
*What is Airport Access?
ANA not only offers travel by aircraft, but also utilizes Mobility as a Service (MaaS) to operate the Airport Access route finder system to improve convenience for all forms of transportation for customers who have booked ANA tickets, including transportation to and from the airport. Using Airport Access allows customers to search for the most accurate and optimal route from the airport to their destination in the Tokyo metropolitan area, where there is an advanced transportation network.

(1) Coupon details
Spend 2,000 yen (including tax) or more at participating stores and receive 5% off your total bill.
(2) Eligible customers
Passengers who took flights from anywhere in Japan to Tokyo (Haneda/Narita)
(3) Eligible period for coupon use
For use from Friday, January 21 to Thursday, March 31, 2022
(Coupons will be distributed when you use Airport Access during the above period.)
(4) Eligible hotels and stores
Restaurants, bars, etc. directly operated by the following Prince Hotels in the Tokyo metropolitan area
The Prince Gallery Tokyo Kioicho, The Prince Park Tower Tokyo, The Prince Sakura Tower Tokyo, Grand Prince Hotel Shin Takanawa, Tokyo Prince Hotel, Shinagawa Prince Hotel, Shinjuku Prince Hotel, Shin Yokohama Prince Hotel, Kawagoe Prince Hotel.
*Please refer to the campaign website for details.
*The sales content of the target establishments may change due to shifts in business conditions. Please check each hotel's website for the latest sales conditions.
(5) How to use
[Screenshot images of Airpot Access] The images are for reference only and may change.

(1) Search for reservations on the ANA website or ANA App, and select Airport Access.
(2) Search for a route to your destination on the input screen.
(3) You can check the route to your destination on the search result screen.
(4) You will receive coupons that can be used at the Prince Hotel during the search process from (2) to (3). Select the coupon and show your screen at the target store.
2. ANA Traveler's Coupons
Customers who make reservations at Prince Hotels through ANA Traveler's will receive discount coupons for a discount on the trip price.
(1) Coupon content
The coupons can be used for "ANA Flight + Prince Hotel Stay (ANA Traveler's Dynamic Package)" and "Prince Hotel Stay Only (ANA Traveler's Hotel)."
(ANA Travelers Dynamic Package)" and "Prince Hotel Stay Only (ANA Travelers Hotel)."
(2) Eligible period for reservations
Period 1: Thursday, January 20 to Tuesday, February 15, 2022
Period 2: Wednesday, February 16 to Wednesday, March 30, 2022
(3) Eligible period for departure and stay
ANA Traveler's Dynamic Package (Flight + Stay)
Period 1: Departures from Friday, January 21 to Thursday, March 31, 2022
Period 2: Departures from Thursday, February 17 to Thursday, March 31, 2022
ANA Traveler's Hotel (stay only)
Period 1: Stays from Friday, January 21 to Thursday, March 31, 2022
Period 2: Stays from Thursday, February 17 to Thursday, March 31, 2022
(4) Eligible hotels
Period 1
Shinjuku Prince Hotel, Shin Yokohama Prince Hotel, Kawagoe Prince Hotel
Period 2
The Prince Gallery Tokyo Kioicho, The Prince Park Tower Tokyo, The Prince Sakura Tower Tokyo, Tokyo Prince Hotel, Shinagawa Prince Hotel
3. Campaign website

4. Inquiries
■Inquiries regarding Airport Access coupon distribution:
Please use the inquiry form on ANA Akindo's website. 「Japanese only」
■Inquiries regarding ANA Traveler's Coupons:
ANA Traveler's Domestic Tour Services Desk, 0570-022-860 (Navi Dial) (9:30 – 18:00)
■ Inquiries regarding Prince Hotels in the Tokyo metropolitan area:
Inquiries from customers: Marketing Strategy , Grand Prince Hotel Shin Takanawa
03-3447-1133(10:00 – 18:00)
Inquiries from the media: Public Relations Department , Prince Hotels, Inc., 03-6709-3302
---
"); document.write(""); // -->