ANA Traveler's collaborates with St. Luke's Clinic – Waikiki!
~ Commencement of a PCR testing service in Hawaii for returning to Japan ~
ANA X Inc. (Representative Director and President: Shinichi Inoue, headquarters: Chuo-ku, Tokyo) has collaborated with St. Luke's Clinic – Waikiki, a general clinic for Japanese people in Hawaii, to commence sales from today of local PCR testing and a test certificate issuing service.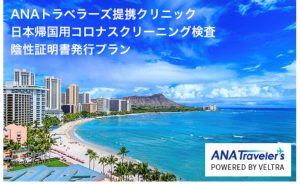 Currently, it is necessary for all customers to submit proof of a negative COVID-19 test conducted within 72 hours before departure (the time from the collection of the sample to the departure time for the flight the customer plans to board) when returning to Japan. This service is offered in the Japanese language for peace of mind, enables testing at the Waikiki Shopping Plaza in the center of Waikiki, and the test certificate prescribed by the government of Japan can be obtained on the day of the test. Furthermore, payment with miles is possible.
By all means please utilize this service when traveling to Hawaii.
■ Service overview
[Content]
PCR testing in Hawaii and a test certificate issuing service
• Offered in the Japanese language for peace of mind
• The test certificate prescribed by the government of Japan is issued on the day of the test
• Payment with miles is possible
[Establishment period (Hawaii time)]
From July 8, 2021 (Thursday) to October 31, 2021 (Sunday)
[Testing dates (Hawaii time)]
Monday and Thursday every week from July 8, 2021 to October 31, 2021
[Test times (Hawaii time)]
Please book one of the following time slots: 10:00, 10:10, 10:20, 10:30, 10:40, 10:50
[Application deadline (Hawaii time)]
For a Monday test: 10:00 on Friday the previous week (Japan time/05:00 on Saturday)
For a Thursday test: 10:00 on Wednesday (Japan time/05:00 on Thursday)
[Testing location]
Second floor of the Waikiki Shopping Plaza (Suite 208), St. Luke's Clinic – Waikiki
[Testing method]
RT-PCR method (a test using saliva sampling)
[Required time]
Approximately 10 minutes
[Price]
Japanese yen: approximately 21,500 yen (varies depending on the exchange rate) * As of 7/2/$US188 (tax included)
*Sold in Japanese yen or miles (Note 2)
[URL for the details]
https://anaop.veltra.com/activitydetail/VELTRA-169127
[Steps in the testing process]
Reception (10:00 to 10:50) → PCR test → (After leaving)
→ Receipt of test certificate (between 15:00 and 15:30 on the day of the test)
[Testing institution]
St. Luke's Clinic – Waikiki
Going forward, we will continue to gradually expand partnership services offering PCR testing in Hawaii in order to meet the needs of our customers. (We are currently arranging testing at the Aloha PCR Test center by Roberts Hawaii (Roberts Hawaii) and the Waikiki PCR Testing Center (Hawaii H.I.S Corporation).) Furthermore, we are continuously advancing preparations for the acceptance of travelers, including measures to combat COVID-19 not only at airports and inside airplanes but also while staying in Hawaii, in order to ensure that our customers can enjoy travel with peace of mind as we work toward restarting our Hawaii travel products.

■ ANA Traveler's Peace of Mind Promise: About COVID-19 countermeasures in Hawaii
https://www.ana.co.jp/ja/jp/inttour/anshinnoyakusoku/hawaii/

■ Preparations and procedures for travel in Hawaii
https://www.ana.co.jp/ja/jp/inttour/hawaii/coronavirus-travel-information/

(Note 1) St. Luke's Clinic – Waikiki is a general clinic run by Japanese people which is used by many Japanese people resident in Hawaii or on a long-term stay in Hawaii. All of the staff provide the clinic's services in both Japanese and English, and provide medical examinations and treatments tailored to the needs of the patients. Their services are covered by a full range of overseas travel insurance, so the clinic is also a reassuring presence in the unlikely event of injury or illness during travel. The clinic is located on the top floor of the Ala Moana Building next to the Ala Moana Center, and in addition it opened a PCR Testing Center on the second floor of the Waikiki Shopping Plaza in central Waikiki on May 2021.

(Note 2) Payment with miles is only possible in the case of purchase from this ANA VELTRA site.

Inquiries from media organizations, etc.: General Administration and Public Relations Team, General Administration and Personnel Division, ANA X Inc.: 050-3815-5051

"); document.write(""); // -->