ANA X and CyberAgent, Formed an Alliance in Digital Advertising Distribution Business
Acceleration of the ANA Group's Digital Platform Business by Bolstering Digital Advertising Distribution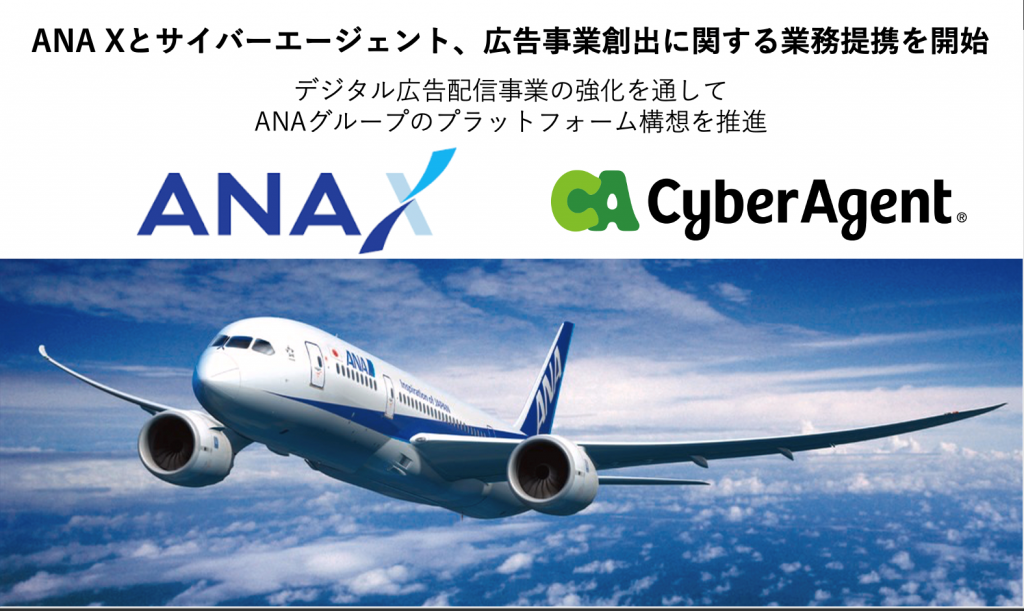 ANA X Inc. (President and CEO: Shinichi Inoue, Headquarters: Chuo-ku, Tokyo) and CyberAgent Inc. (Representative Director: Susumu Fujita, Headquarters: Shibuya-ku, Tokyo) concluded a business alliance contract related to distribution of digital advertising as part of strengthening non-airline business in ANA Group's business structural reforms. 
In the subject alliance, CyberAgent supports establishment of a digital advertisement distribution business that utilizes the ANAN Group's proprietary data as part of efforts to realize the digital platform business being promoted by ANA X. Additionally, it involves training core human resources to handle advertising business at the ANA Group via extensive personnel interaction.
By combining the strengths of both companies, the alliance seeks to contribute to resolution of marketing issues faced by advertisers and local government entities. It intends to go beyond simple provision of advertisement exposure to ANA customers and deliver genuinely useful information.
■Background
The COVID-19 pandemic significantly curtailed human movement and behavior, and many companies need business model innovations that extend further than cost reduction utilizing digital technology and creation of new businesses.
The ANA Group is promoting transformation into a powerful corporate group capable of withstanding a return of pandemic conditions through innovations of its business model and revision to group businesses as a whole (*1). Additionally, ANA X, newly launched in the reorganization of group companies in April 2021, is pursuing reinforcement of digital platform business with a concept of a world in which people collect and use miles in daily life (Mileage-based Ecosystem; *2) too, along with the irregular world of air travel and trips.
CyberAgent, meanwhile, resolves issues at advertisers and maximizes marketing effect by leveraging its advertising product sales network with industry top-class results in Internet advertising business, development technology for a digital advertising operation and distribution foundation, and AI technology R&D results. In recent years, it has been delivering support to retail, medical, and administrative DX.
■Overview of the initiative
The alliance formed in this context addresses the following important themes.
●Development of a proprietary advertising distribution system
The alliance aims to develop a proprietary advertising distribution system based on the ANA Group's airline usage data, ANA Mileage Club member data for roughly 37 million members, and other data.
As advertising distribution destinations, the initiative plans to incrementally broaden from general Internet media to the ANA web site and app and other digital customer contact points and provide information that is beneficial to individual customers via the digital advertisements that are distributed. Service is slated to begin in fall 2022 after joint development of a new digital advertising distribution system.
●Training digital human resources to handle digital advertising distribution business
CyberAgent offers digital marketing knowledge and also a wide range of knowhow on product development, data foundation, and AI technology and intends to cooperate in strengthening organizational capabilities and personnel development needed by ANA X to grow as a digital platform company.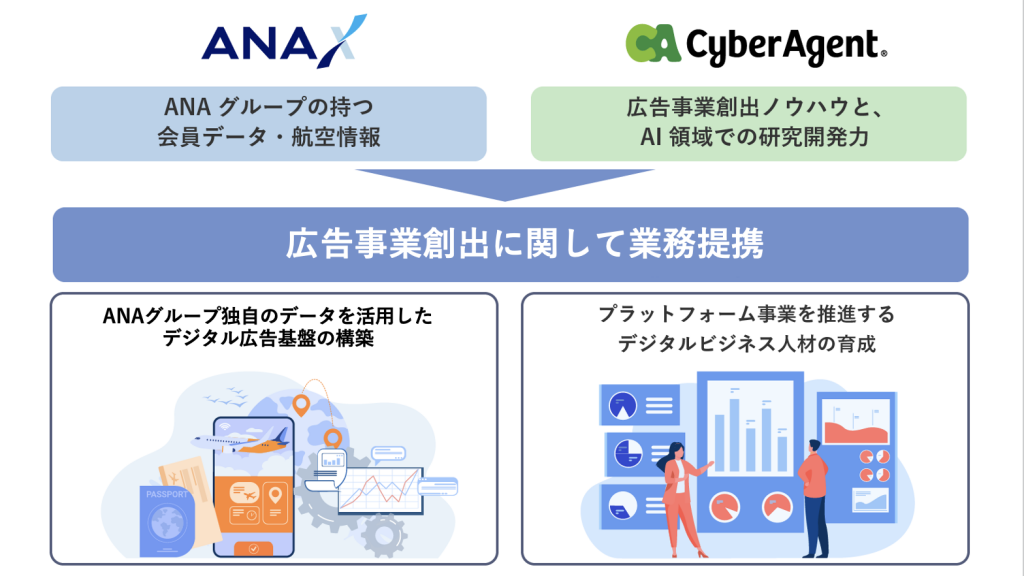 ■Outlook
Both companies want to establish an advertising business that combines ANA X's own online and offline resources as a new pillar of non-airline business income for the ANA Group and pursue new measures that enhance customer experience value.
■Comments by company representatives
(ANA X Inc., President and CEO: Shinichi Inoue)
We're very excited about creating a digital advertising distribution business in collaboration with CyberAgent. We hope to deliver information that is truly beneficial to individual customers by bringing together the unique data foundation accumulated by ANA Group up to now and CyberAgent's technology.
(CyberAgent Inc., Senior Managing Executive Officer: Takahito Naito)
We see new possibilities for advertising distribution utilizing the ANA Group's unique data foundation. Please look forward to our initiative with ANA X that supports ANA Group's business platform concept through creation of an advertising business and cultivation of business digital human resources.
*1ANA Group's Transformative Measures to a New Business Model
---
"); document.write(""); // -->