ANA Traveler's Hawaii tours to launch October 2022
ANA X Inc. (President and CEO: Kazuhiro Todoroki, Headquarters: Chuo-ku, Tokyo) is launching ANA Traveler's Hawaii tours for departures starting in October 2022 from 14:00 on June 21 (Tuesday).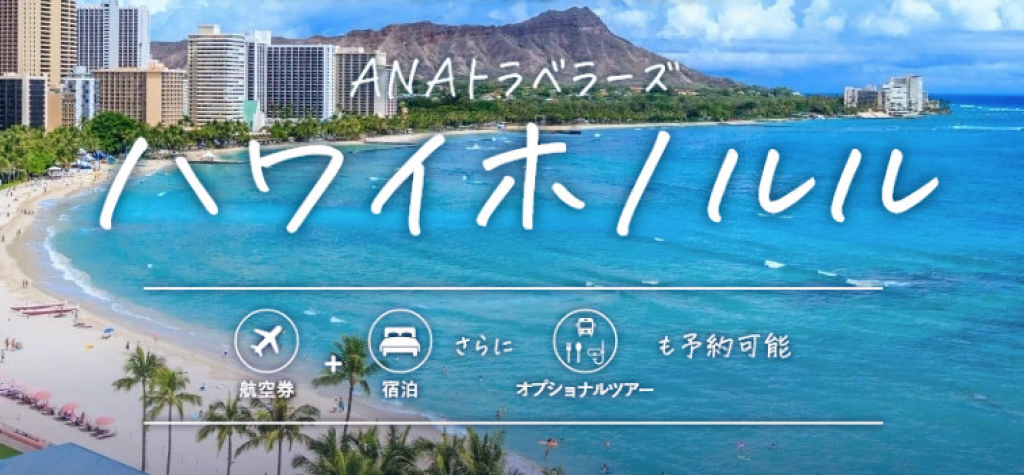 To provide maximum peace of mind to our customers, our hosting preparations now extend beyond the airport and the flight to include COVID-19 infection prevention measures during your stay in Hawaii. ANA Traveler's Hawaii is your platform to mix and match flight and accommodation packages as well as to book local optional tours. Arrange your very own original trip to Hawaii! We are also working to confirm local information before launching tours to other destinations from July 2022. Watch this space.
■ Product overview
Travel dates: Saturday, October 1, 2022 to Friday, March 31, 2023 (until last departure from Japan)  
*Excluded period: Sunday, December 25, 2022 to Monday, January 2, 2023
Tour features:
①Select the transfers between the airport and Waikiki that suit you best!
Choose between "No transfer", "Return or one-way only private transport" and "Return or one-way only shared transport".
"With transfer" options include a Waikiki Trolley ticket for the duration of your stay.
※"With transfer" requires an additional fee.

②Select your seats in advance on ANA international routes!
You can now reserve your seat both ways at the time you book your ANA international flights.
③The Mahalo Lounge is now open to you!
Mahalo Lounge in the heart of Waikiki is here to help you with local staff and Japanese language support to make your trip as pleasant as possible.

④Myriad options to book through ANA-VELTRA
Optional tours in Hawaii can now be booked through ANA-VELTRA.
We also offer Japanese-speaking local PCR testing plans. These can be purchased using ANA Miles or accrue Miles.
■Guide to ANA Traveler's Hawaii products and bookings
Further details: https://www.ana.co.jp/ja/jp/inttour/hawaii/dp/
■ANA-VELTRA Hawaii Optional Tour bookings
Further details: https://www.ana.co.jp/ja/jp/inttour/veltra-relay/?areaCode1=13&refererType=1
■ ANA Traveler's' care promise  regarding COVID-19 measures
Further details: https://www.ana.co.jp/ja/jp/inttour/anshinnoyakusoku/
■Hawaii trip preparations and procedures
Further details: https://www.ana.co.jp/ja/jp/inttour/hawaii/coronavirus-travel-information/
■ ANA Traveler's partner clinics – COVID-19 screening for return to Japan – Health certificate for COVID-19 plan
Further details: https://www.ana.co.jp/ja/jp/inttour/veltra-relay/?areaCode1=89&theme=172&sb=PRICE_ASC&m=2
■Easy Return to Japan service
 ANA Group not only takes measures to prevent the transmission of COVID-19 such as cleanliness, hygiene and flight ticket refunds, we also provide this convenient and reassuring service for customers planning to return to Japan after a long stay overseas. Further details: https://www.anahd.co.jp/ja/us/travel-information/return-to-japan/
---
"); document.write(""); // -->