ANA Traveler's Sales information about domestic travel products in the second half of FY2021 ~ Ski season is here! Sales of Tabidoki Ski & Snowboard commence ~
ANA X Inc. (Representative Director and President: Shinichi Inoue, headquarters: Chuo-ku, Tokyo) began selling Tabidoki Ski & Snowboard Hokkaido and Tabidoki Ski & Snowboard Zao and Naeba, domestic travel products for the second half of FY2021, from September 28, 2021 (Tuesday).
<TOPIC>
◆If Tabidoki Ski & Snowboard Hokkaido
 Lift and gondola tickets, a Super Coupon which can be used for a full range of rentals, and a good-value
 dinner plan established!
◆ If Tabidoki Ski & Snowboard Zao and Naeba
 Optional plan for a lift ticket and rental set at a good-value price established!
◆We support the trips of our customers with ANA Traveler's Safeguarding of Peace of Mind!
 We have established the Emergency Medical Consultation Service (Medical Call Service) under which
 highly-experienced nurses offer emergency medical consultations by telephone 24 hours a day from before
 the travel to after the travel, and the COVID-19 Consolation Money Service which pays consolation money
 to customers infected with COVID-19 during the travel or within 14 days after the travel.
Tabidoki Ski & Snowboard Hokkaido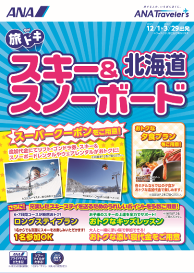 For the first time in two years, we have established accommodation itineraries that enable customers to enjoy Hokkaido skiing in six areas including the Rusutsu Resort, two choice-type itineraries in the Furano or Niseko areas, and a Club Med Tomamu Hokkaido itinerary.
♦ Good-value and recommended features!
♦ Super Coupon enabling the use of lift and gondola tickets and rentals at a good-value price established!
For example, a one-day lift and gondola ticket when staying at Rusutsu is normally 6,500 yen but with the Super Coupon it can be purchased for 4,600 yen.
* The price for one adult when using the Super Coupon between 12/18 and 3/13.
♦ The customers can enjoy a good-value dinner! The Good-Value Dinner Plan and the Children's Dinner Plan to make children happy established!
Customers can have dinner at each resort hotel for a good-value additional charge. Moreover, in the case that an adult uses the Good-Value Dinner Plan, children participating for the children's price can have dinner for no additional charge or an additional charge starting from 1,000 yen.
* The amount differs depending on the hotel.
♦ Enjoy ski resorts with the Long-Stay Plan!
If staying at Rusutsu Resort Hotel & Convention, Hoshino Resorts Tomamu The Tower, or Hoshino Resorts RISONARE Tomamu, a stay of six or seven days for the same basic charge as five days is possible.
* The additional charge for the flight differs for each use date.
♦ Good-value optional plan enabling enjoyment of ski resorts established!
An enhanced optional plan with kids' lessons, recommended activities, etc. is available at a special price.
♦Peace of mind in the unlikely event of a shortage of snow! Snow Shortage Choppiri Points
In the case that none of the lifts or gondolas are operating on the ski field at 15:00 on the day before the tour departure date, you will be given in-house gift certificates which can be used in your hotel.
* Eligible hotels only; limited to departures between 12/1 and 12/16.
Tabidoki Ski & Snowboard Zao and Naeba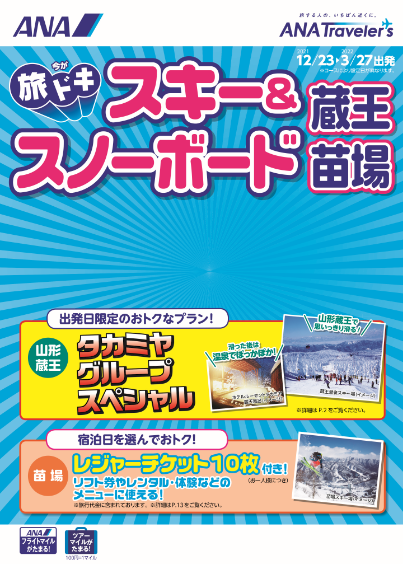 ♦ Good-value and recommended features!
♦ Plans with limited departure dates and accommodation dates established!
In Zao, we are providing the good-value multiple-night-stay plans of the Takamiya Group on limited departure dates.
In Naeba, we add leisure tickets (10) which can be used for approximately 20 types of menus, including lift tickets on limited accommodation dates, etc., for no additional charge.

♦ Good-value optional plan enabling enjoyment of ski resorts established!
We are providing a lift ticket and rental set at a good-value price (* Note 1).


* Note 1: The rental set is only provided for Naeba.
* The details and establishment period of each tour differ depending on the itinerary. Please confirm the details with a travel agent handling the tours near you or the pamphlet on the ANA website (https://www.ana.co.jp/domtour/booking/csm/search/DSHP0010/init).

ANA Traveler's Peace of Mind Promise
URL for the details: https://www.ana.co.jp/ja/jp/domtour/anshinnoyakusoku/

ANA Care Promise
URL for the details: https://www.ana.co.jp/ja/jp/topics/coronavirus-travel-information/

Inquiries from media organizations, etc.: General Administration and Public Relations Team, General Administration and Personnel Division, ANA X Inc.: 050-3815-5051

"); document.write(""); // -->