Commencement of sales of the ANA Traveler's Online Tours new plan from Venture Whisky's Chichibu Distillery, famous for Ichiro's Malt! ~ How about experiencing the charm of Japanese whisky? ~
ANA X Inc. (Representative Director and President: Shinichi Inoue, headquarters: Chuo-ku, Tokyo) has commenced sales of "Ichiro's Malt Online Tour of Venture Whisky's Chichibu Distillery [Featuring the ANA logo! Including an original set for enjoying whisky]" from September 13 (Monday) at 14:00.
This time we introduce Venture Whisky's Chichibu Distillery, famous for Ichiro's Malt which has won at the World Whiskies Awards, a global whisky competition, for five consecutive years. Venture Whisky is one of a small number of specialized manufacturers of Japanese whisky in Japan, which is one of the world's leading producers of whisky along with the United States, Canada, Scotland, and Ireland. It will communicate the charm of whisky through an inspection of the manufacturing process in the distillery and questions from the customers.
For this tour, in addition to five kinds of whisky and Chichibu-produced dried fruit (Chichibu Yama Ruby grapes), we have provided two plans to choose from: a set including a glass which has a history of use in business class, or a set including a glass only available through the ANA online tour. On the day, we provide a whisky tasting event and a question-and-answer session utilizing Zoom's Q&A function, so by all means please enjoy communication with the local people in Chichibu.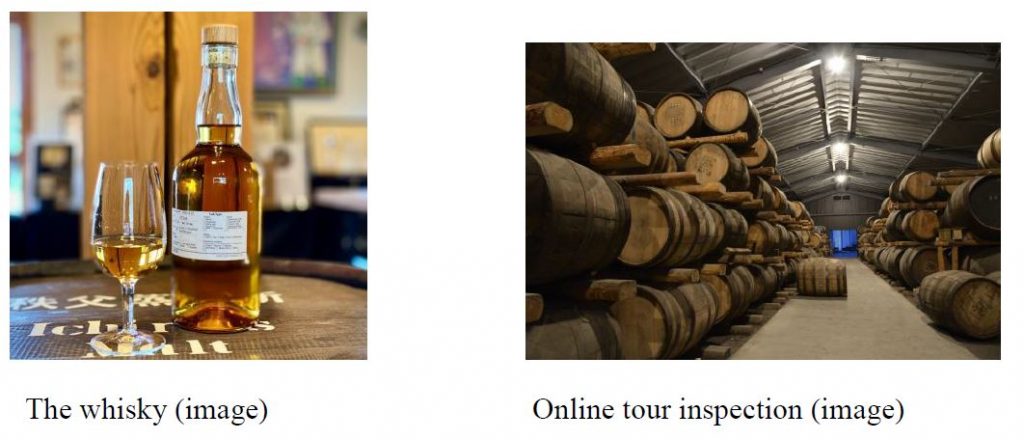 ■ Product overview
[Product name] Ichiro's Malt Online Tour of Venture Whisky's Chichibu Distillery
[Featuring the ANA logo! Including an original set for enjoying whisky]
[Date and time] October 9, 2021 (Saturday) from 18:00 to 19:30
October 10, 2021 (Sunday) from 18:00 to 19:30
[Application period] From September 13, 2021 (Monday) at 14:00 to October 3, 2021 (Sunday) at 23:59
[Plan details] (i) Set of original whisky & glass used in ANA business clas
(ii) Set of original whisky & glass only available through the ANA Online Tour
[Prices]     (i) and (ii): 9,980 yen
[Capacity]    (i) and (ii): 50 people each time
* People under 20 years old cannot apply.
[Participation conditions] Please participate from a place with a stable communications environment.
On the day we will use Zoom so if you do not have the Zoom app, please download it
in advance.
[URL for the details] https://www.ana.co.jp/ja/jp/travel/onlinetour/
[Notes] Your questions will be answered using the Zoom Q&A function.Please understand in advance that due to the composition of the tour, we may only be able to answer some of the questions.
[Implementation cooperation] ANA Akindo Co., Ltd.

Going forward, ANA Group will continuously work to promote tourism by creating the relevant population utilizing the ANA domestic route network, and to further revitalize the region. Going forward, we will continue to offer a charming lineup, so please stay tuned.

Inquiries from media organizations, etc.: General Administration and Public Relations Team, General Administration and Personnel Division, ANA X Inc.: 050-3815-5051

"); document.write(""); // -->