ANA Traveler's: Going Further into Unseen Japan, the Fascination of Travel Never Ends
~ "Let's Travel in Japan! High-Quality Journeys VOL.11" ~
ANA X Inc. (Representative Director and President: Shinichi Inoue, headquarters: Chuo-ku, Tokyo) today began sales of Let's Travel in Japan! High-Quality Journeys VOL.11., a magazine about domestic travel. We are offering a total of 18 itineraries: six itineraries for "travel with a seasonal feeling" featuring scenery which can only be seen now, rare vehicles and foods and experiences, enabling customers to satisfy their curiosity, and 12 itineraries for "travel for enjoying hotels in a relaxed way" on which the customers stay in high-quality accommodation.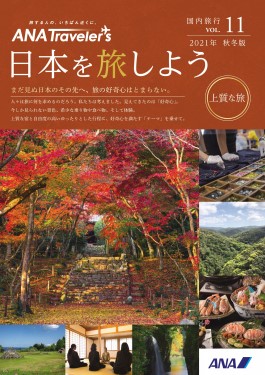 <Topics in common for the travel itineraries with a seasonal feeling>
(i) Customers can enjoy the scenery in the four seasons which can only be seen now and people want to see because it can be seen now, and the food and experiences that are only available in those areas, etc. Chartered buses and tourist taxis are provided for the travel. A maximum of 20 people ride in one chartered bus, and one group of customers must ride in each tourist taxi, so customers can have a relaxing time even on long journeys.
Furthermore, the walking time is stated for each tourist site, so please apply in accordance with the purpose of your trip.
(ii) We are implementing COVID-19 infection prevention measures for traveling from place to place, tourist activities, and staying in accommodation during the travel, so please participate with peace of mind.
In addition to the ANA Care Promise and the ANA Traveler's Peace of Mind Promise, during tourist activities we take thorough measures to ensure that groups of ten people or fewer go on tours at different times, there are four people or fewer at one table when dining, and food is not consumed on the buses. (Note 1)
<Product topics for travel itineraries with a seasonal feeling>
[NEW]

A special tour for a special occasion ~ Kyoto autumn leaves admiration ~ Stroll around hidden but notable autumn leaves sites, 3 days (departing New Chitose, departing Haneda)
Departure dates: November 11, 15, 17, 18, 22, 24, 25 and 29
This is a special tour in collaboration with the Totteoki Kyoto Project (Note 2) undertaken by Kyoto City and the Kyoto City Tourism Association. Customers can tour around the history, nature, gourmet food, experiences and hidden autumn leaves spots only available in that region, and fully enjoy the autumn leaves in a relaxed way. Furthermore, guidance to a sake brewery in the middle of the process of making the year's new sake, and special admissions to venues, worshipping at shrines, inspection tours, etc. only available through this tour are provided.
[NEW]

Making original jeans in Kojima, Okayama, the birthplace of jeans in Japan, and walking around town in the Kurashiki Bikan area, 2 days (departing Haneda)
Departure dates: October 21 to 25, 28, 29 and 31, November 1, 4, 5, 7, 8, 11, 14 and 15, November 19 to 22, 25, 28 and 29 and December 2 to 6 and 10
Customers are guided around Korakuen, one of the three great gardens of Japan, and the Kurashiki Bikan area. Early in the morning on the second day, customers can see Matsuyama Castle appearing to float in a fantastical sea of clouds from an observation deck. (Note 3) Furthermore, we provide a menu of jeans-making experiences which can only be experienced at Betty Smith. Customers can make original jeans that are the only ones in the world and take them home on the same day. Moreover, in the Kurashiki Bikan area, they can enjoy their favorite sweets, etc. using a town walkabout coupon.
[NEW]

Mythical village, Miyazaki and mystery, visiting the culture and natural beauty of Takachiho, 3 days (departing Haneda, departing Chubu International, departing Itami)
Departure dates: November 2 to 4, 9 to 11, 16 to 18, 23 and 24
Customers can stroll through and encounter the history of the Takachiho Gorge, which has been designated a national scenic and natural monument, while listening to the explanations of a tourist guide. Furthermore, they can observe Takachiho kagura [Shinto music and dance numbers], an important intangible folk cultural property, and enjoy the authentic dancing. On the final day, they can gaze out on the town streets of Aso and the five peaks of Mount Aso from the Daikanbo Lookout to fully enjoy both the culture and nature of Takachiho at the same time.
[NEW]

Visit the Hakodate Jomon ruins and enjoy luxury in hot springs, 4 days (departing Haneda, departing Chubu International, departing Itami)
Departure dates: October 30, November 1, 8 and 10
This is an itinerary for studying Jomon heritage and Ainu culture, for which world cultural heritage registration was decided in July 2021. Customers can visit Upopoy, a base to revitalize and expand Ainu culture, and directly encounter the history and culture of the Ainu. Furthermore, on this itinerary the customers can tour around amazing scenery, such as the popular tourist spots of Hakodate and the Silo Observation Deck, etc., and fully enjoy the Donan [southern Hokkaido] area.
[NEW]

A trip immersed in the world of Zen at Soto Zen temple Daihonzan Eiheiji, Fukui and Ishikawa, 3 days (departing Haneda)
Departure dates: departures on specific days between October 1 and February 28 (excluding 12/28 to 1/4)
Customers can have a Zen sitting mediation experience and participate in the morning service at Daihonzan Eiheiji, and experience to their heart's content a sense of fulfillment that is different from their daily life. They can eat authentic shojin ryori [Buddhist cuisine] and experience the world of Zen. Furthermore, they can also have fun sightseeing in Hokuriku in a tourist vehicle hire.
A walk in Yanbaru subtropical forest enveloped in negative air ions, and a stroll around Shurijo Castle, 4 days (departing Haneda, departing Chubu International, departing Osaka, departing Fukuoka)
Departure dates: October 8, November 21 and December 19
Customers can enjoy a subtropical forest by walking in the Yanbaru Forest, the largest subtropical laurel forest in Japan. A nature guide certified by the Yanbaru Three Village World Natural Heritage Promotion Council guides the customers at their own pace on a walking route to the Hiji Waterfall, which boasts a drop of 25.7 meters, the largest in Okinawa. Furthermore, customers are guided to an exhibition facility featuring the Yanbaru kuina [Okinawa rail], a natural monument which can rarely be seen in the wild. On the final day, the itinerary offers full enjoyment of the nature and history of Okinawa Prefecture, including a coral dyeing hands-on experience and sightseeing in the areas around Shurijo Castle and the Tamaudun royal mausoleum.

The itineraries for "travel for enjoying hotels in a relaxed way" are plans that include return air tickets and stays in high-quality hotels and ryokans. We provided a total of 12 itineraries in Hokkaido, Tohoku, Hokuriku, Kanto, Tokai, Kansai, Shikoku, Kyushu and Okinawa. Depending on the itinerary a welcome taxi, or a tourist taxi as an up-graded plan (for an additional charge) is offered (excludes some itineraries). Please enjoy a more elegant and luxurious time than in your daily life.

How to book: Through the ANA website or the ANA Traveler's Domestic Tour Services Desk: 0570-022-860
Note: The place of departure differs depending on the itinerary. Please browse the details of each itinerary at the site below.
https://www.ana.co.jp/ja/jp/domtour/theme/recommend/luxetravel/

Going forward, ANA Traveler's will continue to provide close support to its customers, further enhance the "reliable quality offering peace of mind" it has cultivated to date, and offer products and services which have value for its customers.
(Note 1) We provide the PCR Test Optional Plan as COVID-19 infection prevention measures.
(Note 2) This is a project to communicate about the notable sites of Kyoto which are still not well known.
(Note 3) The sea of clouds is a natural phenomenon, so it may not be visible depending on the weather conditions, etc.

Inquiries from media organizations, etc.: General Administration and Public Relations Team, General Administration and Personnel Division, ANA X Inc.: 050-3815-5051

"); document.write(""); // -->