Second phase of implementation of the Mileage-based Ecosystem*1
New ANA Pocket service commences!
~ Collect points which can be exchanged for miles by walking or riding on any type of vehicle ~
ANA X Inc. (Representative Director and President: Shinichi Inoue, headquarters: Chuo-ku, Tokyo) will commence from December 2021*2 the provision of a new mobile app service, ANA Pocket, for smartphone*3 users, which enables users to collect points which can be exchanged for miles by not only taking air transportation but also walking and taking any transportation such as a train, bicycle or car.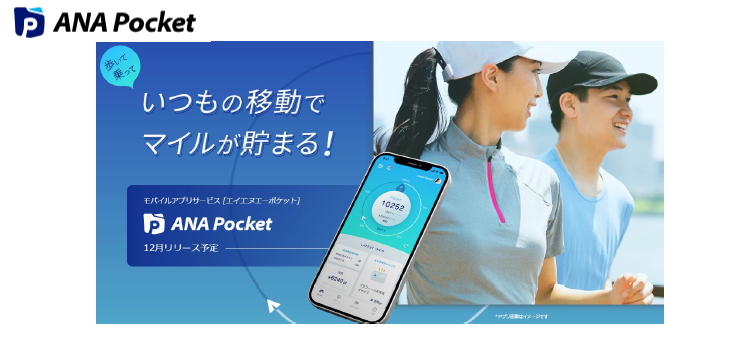 ANA X is promoting the provision and development of its platform business utilizing the client data accumulated by the ANA Group and digital touchpoints, with the aim of further enriching the lives of its customers in their "ordinary" lives in addition to "out-of-the-ordinary" settings such as air travel and trips, while also responding to the behavioral changes of people, which are diversifying further due to the impact of COVID-19.
In that context, the company believes that transportation, which includes aviation, the main business of the ANA Group, is one of the important social issues that will gain increasing attention with respect to its economic ripple effects from regional revitalization and with respect to its impact on the global environment.
In the second phase of implementation of the Mileage-based Ecosystem ,*4 we will introduce a mobile app service with the themes of "transportation " and "health." Please stay tuned for ANA Pocket, which will utilize transportation data, location information, and AI to closely support the ordinary lives of its customers, enrich their daily living and human lives through transportation, and provide opportunities for regional revitalization and behavioral changes to eco-transportation.
■ The charm of ANA Pocket
(i) Enables users to get points through transportation in daily life
Users can collect points based on the means of transportation and the distance from not only air transportation but also transportation in daily life such as walking and taking a train, bicycle or car, and can exchange the collected points for digital gift coupons or ANA SKY COINS and ANA miles which can be used for air travel and travel discounts.
(ii) Provides opportunities for behavioral changes while the user enjoys the app like a computer game
ANA Pocket provides opportunities for fun behavioral changes because it has features that anticipate a variety of purposes of use tailored to the tastes and lifestyles of the users, including Transportation Challenges which can be enjoyed like a computer game, Gotcha when exchanging points, and others.
(iii) Supports health and the building of eco-habits
ANA Pocket raises users' awareness of their own "transportation style" and supports healthy and environmentally-friendly transportation by recording the transportation data of the users, analyzing it with AI, and visualizing their transportation history, including means of transportation, transportation distances and transportation times, etc.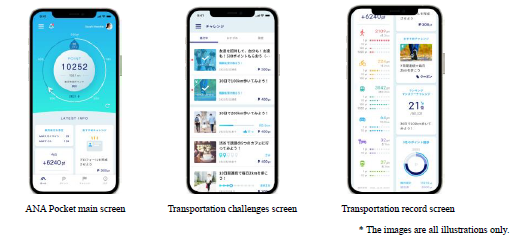 (iv) Provides free gifts for ANA Mileage Club members
ANA Mileage Club members can spend Gotcha for the chance to win ANA SKY COINS for free. Furthermore, for 550 yen (tax included) per month it is possible to take on the challenge of a Gotcha with which everyone wins miles. Even after commencement of provision of the service we are providing a variety of campaigns. If you register with the ANA Email Magazine  in advance we will notify you in the Email Magazine when we commence provision of the service, so by all means please take this opportunity to register.
* 1 About the Mileage-based Ecosystem: https://www.anahd.co.jp/group/pr/202103/20210326-4.html
* 2 We plan to announce the details of service provision commencement date and the alliance partners, etc. in early November. About the overview of ANA Pocket: https://www.ana.co.jp/ja/jp/share/ana-pocket/
* 3 At the time of the initial release, we will commence the service on iOS.
* 4 As the first phase in July 2021, we commenced service provision of a life infrastructure called ANA Denki.
 End of document
---
"); document.write(""); // -->